---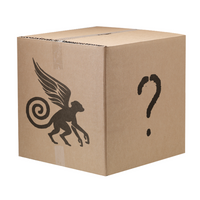 Description:
Ah, you are thinking about buying the Flying Monkeys Mystery Box. Do it!  Life is full of unknowns, but each is a possibility.  And, hey, this one will come in the right size. Our boxes feature a cool t-shirt (you specify the size), some kind of barware, unique accessories, and magical things to fill you with wonder. Take a chance: what have you got to lose? Don't take the chance, and you've lost already. If this box falls in the forest and no one is around to hear the breaking glass, does it make a sound?  Why don't you be the adventurous one who finds out. 
Size: 10" x 6" x 4"
Taxes
Prices do not include taxes. 
USA & International Delivery
Orders ship via Canada Post.
Delivery within Canada
Orders ship via Canada Post or CanPar.

Local Barrie Delivery 
Free delivery in the City of Barrie for orders over $50. Orders are typically delivered within 24 to 48 hours after ordering, Monday to Friday between 9am & 7pm. 
Local Pickup (Click & Collect)
Orders are typically available the next day. We will call, text or email you when your order is ready. Standard pickup times: Monday to Friday 10am to 4pm (we will try to accommodate other times by appointment). Pickup location is at our warehouse in Barrie:
Flying Monkeys Warehouse 
49 Truman Rd
Barrie, ON L4M 4A5
Door N6 - Back of building