---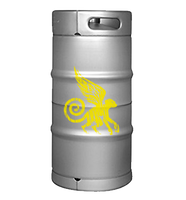 PRICES INCLUDE TAXES & KEG DEPOSIT.
$175.00 + $22.75 HST  + $50 DEP = $247.75

Style: American Unfiltered IPA
ABV: 6.5%
Tasting Notes:
Plump & Unfiltered, Juicy Ass glistens with a hazy golden colour wobbling with aromas of tangerine, pine, citrus, and a touch of caramel. Fat bready malts join in the sassy, slightly hazy body of this 6.5% beer followed by a succulent, resinous hop finish. With CTZ, Citra, Mosaic, and Amarillo hops in the boil; more Amarillo, Citra, Mosaic, and Simcoe steeping in the whirlpool; and an additional dry-hopping of these same sweet succulent hops, this brew is an ambrosia of craft brewing.

We Deliver and it's FREE!
If you live in Barrie, we even include free delivery when you order your keg. Keg orders are delivered Tuesdays and Thursdays between 9am & 7pm. Orders must be received by 7am Tuesday and Thursday for same day delivery. No charge for picking up empty kegs when dropping off a new, full one. Keg deposits will be refunded after empty kegs are returned. If you have multi-keg orders or special delivery requests, please call the brewery at 705.721.8989.
ID verification is required for all alcohol deliveries.
Local Pickup (Click & Collect)
Orders are typically available the next day. We will call, text or email you when your order is ready. Standard pickup times: Monday to Friday 10am to 4pm (we will try to accommodate other times by appointment). Pickup location is at our warehouse in Barrie:
Flying Monkeys Warehouse 
49 Truman Rd
Barrie, ON L4M 4A5
Door N6 - Back of building 
Number of Servings, Dimensions & Weight 

20L Keg 
12oz Servings: 55
Size: 23" tall x 9" diameter
Weight: 60lbs   

30L Keg
12oz Servings: 84 
Size: 23" tall x 11" diameter
Weight: 90lbs  

58.6L Keg
12oz Servings: 165 
Size: 23" tall x 16" diameter
Weight: 160lbs