---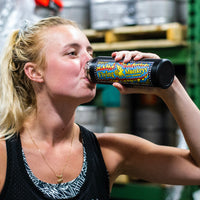 Description
The Flying Monkeys Reusable Liquid Drinking Device, known in some cultures as a "Water Bottle,"  is a wicked and weird accent piece for anyone who drinks. Period.  Tested with water, tea, coffee, soup, Kool-Aid, Tang, and, yes, BEER, we confidently claim our Reusable Liquid Drinking Device is perfect for any potable liquids. With an interior built from vacuum drawn corrosion-resistant stainless steel, its antibacterial surface features 500mL of storage capacity and comes with an easy to remove screen for separating ice or tea leaves or coffee grinds. Eco-friendly, and stylish, all the cool kids will want one! 
Size: 2.5" diameter x 9" high x 500ML
Taxes
Prices do not include taxes. 
USA & International Delivery
Orders ship via Canada Post.
Delivery within Canada
Orders ship via Canada Post or CanPar.

Local Barrie Delivery 
Free delivery in the City of Barrie for orders over $50. Orders are typically delivered within 24 to 48 hours after ordering, Monday to Friday between 9am & 7pm. 
Local Pickup (Click & Collect)
Orders are typically available the next day. We will call, text or email you when your order is ready. Standard pickup times: Monday to Friday 10am to 4pm (we will try to accommodate other times by appointment). Pickup location is at our warehouse in Barrie:
Flying Monkeys Warehouse 
49 Truman Rd
Barrie, ON L4M 4A5
Door N6 - Back of building