---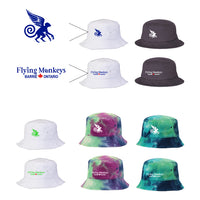 Description:
The Bucket Hat: a wonderfully persistent fashion staple … whether you like it or not.
From Gilligan to Rhianna, the bucket hat will endure as long as there are dorks getting stranded on islands, quiet boats to be paddled, skateboards to be ollied, craft beers served on patios, or summer music festivals without shade.  
Throw a cool flying monkey on that hat, and … now you've got a bucket hat with a cool flying monkey on it.  With the Brewery name on the back, this bucket hat is available in Ocean tie-dye, Raspberry tie dye, Classic Gilligan White, or Dirt-Hiding Grey.
Taxes
Prices do not include taxes.
USA & International Delivery
Orders ship via Canada Post.
Delivery within Canada
Orders ship via Canada Post or CanPar.

Local Barrie Delivery 
Free delivery in the City of Barrie for orders over $50. Orders are typically delivered within 24 to 48 hours after ordering, Monday to Friday between 9am & 7pm. 
Local Pickup (Click & Collect)
Orders are typically available the next day. We will call, text or email you when your order is ready. Standard pickup times: Monday to Friday 10am to 4pm (we will try to accommodate other times by appointment). Pickup location is at our warehouse in Barrie:
Flying Monkeys Warehouse 
49 Truman Rd
Barrie, ON L4M 4A5
Door N6 - Back of building