---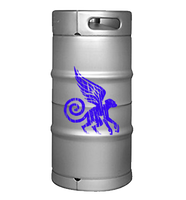 PRICES INCLUDE TAXES & KEG DEPOSIT
$175.00 + $22.75 HST  + $50 DEP = $247.75

Style: Dark Lager

ABV:   5%

Tasting Notes

Easy on the palate and pleasing to the eye, dark lagers are great for the novice craft beer drinker or seasoned expert.  Orderly yet mysterious with striking presence in the glass, urge new folks to give this style a try –it will never disappoint!

With a black body and tan head, this beer is truly oxymoronic. Surprisingly light-bodied for an ebony beer with moderate carbonation similar to a pilsner, this dark lager can be quaffed like any cold refreshing beer on a hot day. Raven-bodied, the clean bones of this dark libation rise with fresh ease. Sly hints of coffee and cocoa lurk in the shades of malt with decisive cuts of hoppiness on the clean and final finish.
Darkly smooth and easy as the slip to the Beyond …meet the Reaper drinking deeply fully & living well. 
We Deliver and it's FREE!
If you live in Barrie, we even include free delivery when you order your keg. Keg orders are delivered Tuesdays and Thursdays between 9am & 7pm. Orders must be received by 7am Tuesday and Thursday for same day delivery. No charge for picking up empty kegs when dropping off a new, full one. Keg deposits will be refunded after empty kegs are returned. If you have multi-keg orders or special delivery requests, please call the brewery at 705.721.8989.
ID verification is required for all alcohol deliveries.
Local Pickup (Click & Collect)
Orders are typically available the next day. We will call, text or email you when your order is ready. Standard pickup times: Monday to Friday 10am to 4pm (we will try to accommodate other times by appointment). Pickup location is at our warehouse in Barrie:
Flying Monkeys Warehouse 
49 Truman Rd
Barrie, ON L4M 4A5
Door N6 - Back of building 
Number of Servings, Dimensions & Weight 

20L Keg
12oz Servings: 55
Size: 23" tall x 9" diameter
Weight: 60lbs  

30L Keg
12oz Servings: 84 
Size: 23" tall x 11" diameter
Weight: 90lbs
58.6L Keg
12oz Servings: 165 
Size: 23" tall x 16" diameter
Weight: 160lbs